Who are the Friends of Forsyth? We all are!
City elected officials and staff along with many advocates have been involved in the project from the beginning. All citizens are invited to offer their perspective on what they feel are the most important aspects of the park to preserve and to share ideas on the enhancements they would like to see considered in the future.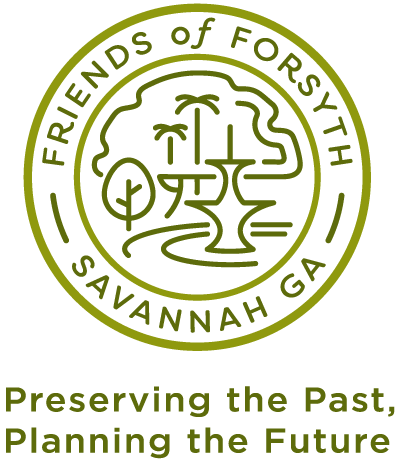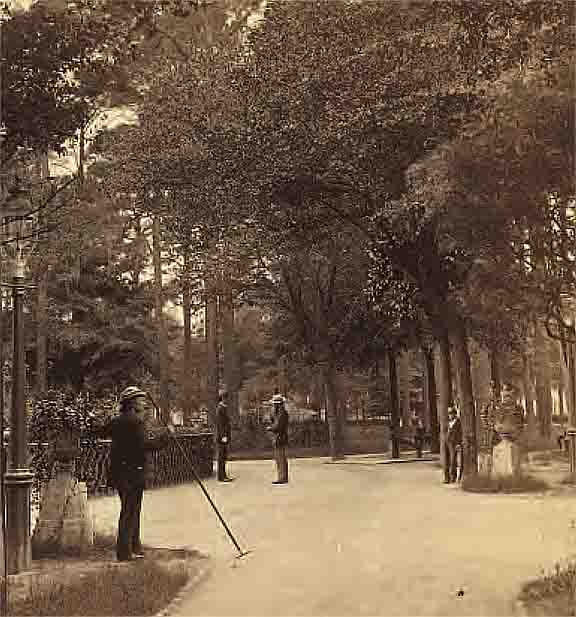 View of park and man holding rake. The Miriam and Ira D. Wallach Division of Art, Prints and Photographs: Photography Collection, The New York Public Library.
A few years ago, Trustees' Garden Club initiated a multi-year legacy project called the Forsyth Park Project. The two most important elements are a Master Plan for the park and designation of the park as a National Historic Landmark.
The Plan will provide comprehensive guidelines for action and will establish a vision for Forsyth Park for decades to come.
Creating a Master Plan to act as a guideline for the use and development of the park is an important way to protect this precious asset while also allowing it to evolve to meet the demands of modern life. 
Founded in 1926, Trustees' Garden Club is part of The Garden Club of America, an organization of 201 member clubs with over 18,000 members nationwide. The Club has a long history of undertaking significant community improvement projects in every Aldermanic district, including many projects focused on the beautification of Forsyth Park.
In 2002, the Club restored the Fragrant Garden and has taken responsibility for its ongoing maintenance in partnership with the City. Other contributions include the landscaping of the playground areas and funding the addition of brick walkways and benches in the area of the two dummy forts.
Whether on its own or through collaboration with City officials and departments, other local area garden clubs and civic organizations, Trustees' Garden Club has provided time, expertise and meaningful financial support.
Savannah Technical College: Funded the design and planting of a culinary garden to be an outdoor classroom for students.

Southwest Chatham Library: Designed and funded the installation of an outdoor family-friendly seating area.

Emmett Park: Revitalized twelve-block area with plants, shrubs, lawns, brick walls, iron fencing and the planting of nearly 14,000 bulbs. (10 year project)

Colonial Cemetery: Restored ironwork, repaired brick and tombstones, installed irrigation, tabby walks and decorative iron gates. (3 year project)

The Scarborough House Garden: Designed and executed a formal and functional garden that included design, planting, walkways, benches, a pavilion, a pool and irrigation. (5 year project)

Jenkins Boys Club, Coastal Center for Developmental Services and other institutions: Funded, designed, and installed landscaping.